PALOMA EVENTS

Virtual Wine & Dine
with Paloma Vineyard Winemaker Sheldon Richards, Vancouver Chef Jonah Joffe & Spur Imports' Owner Alex Good
4:00-7:00 pm PST November 20, 2021
Our second Virtual Wine & Dine will get your creative juices flowing for the upcoming festive season. Jonah will be dabling in some creative takes on holiday classics, while Sheldon and Alex will help us expand our wine knowledge playing with some essential Merlot pairings.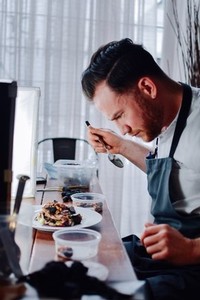 Sheldon has been involved in the vineyard since his parents, Jim & Barbara Richards, first bought the land back in 1983. He helped clear the trees and collect the stones to make room for the vineyard you know as Paloma. He learned first-hand how to cultivate a great grape from his mother and how to turn those grapes into top tier Napa Valley wine from his father. Now the owner, winemaker & tasting room specialist, Sheldon does it all. If you have ever done a tasting with him, you know you are in for a treat with this event!
Jonah brings 20 years of cooking experience to the virtual dinner table. From humble steakhouse beginnings to West Coast California adventures, Jonah now finds himself deeply immersed in the seasonal cuisine of Vancouver, British Colombia.
Alex's info
Join Jonah, Sheldon and Alex for a fun and interactive food and wine experience!
MENU
1st
Chef's Selection of Assorted Meats and Cheeses
This will be a guided purchase using your local purveyors. Served with Barbara's grape jelly and home made rosemary semolina crackers.
2nd
Roasted Crown of Pheasant
autumn root vegetables, brown sugar roasted spaghetti squash, sage gravy

3rd
Merlot Poached Pears
whipped ricotta, candied pecans

Suggested Pairings
2013 Paloma Merlot & an Italian counterpart (announced to participants)
2013 Merlot: "This is a strong effort from Paloma that has made its reputation for ripe, sexy, full-bodied Merlots. This wine exhibits plenty of plum, black cherry and blackcurrant fruit, mocha and coffee bean in a lush, delicious and opulently textured style. It is drinking beautifully already and will continue to evolve for another decade or more." - Robert Parker, 93 Points
Details for the Wine & Dine Virtual Cooking Class and Wine Tasting
Plan for 3 hours of delicious eating and social drinking with our hosts Jonah, Sheldon and Alex!
Jonah will start us off by getting our main courses underway and cooking before Alex have put together some regional cheese and meat profiles to compliment the suggested pairings. Jonah will take you step by step through the process of making fresh home-made gnocchi, and zabaglione, a beautifully light wine-based custard, while Sheldon opens up the floor to chat wine.
Cooking Class
On July 2nd, we will provide you with event details, including a shopping list with alternatives for items that Jonah feels may be more challenging to source and some minor prep to set you up for success!
Wine Pairings
Sheldon will be focusing the wine tasting around the 2013 Paloma Merlot and an Italian counterpart. Details on the Italian selection will be sent to participants on July 2nd. We encourage you to open both and join him!
Cost
We are acutely aware of how this pandemic has affected many of our industries, hospitality in particular. ​We are incredibly appreciative of your continued support. This event's proceeds will go directly to our guest Chef, Jonah Joffe.
Each ticket comes with a shopping list for groceries, recipes for each item and access to the virtual event, where Jonah will slowly and interactively walk you through cooking and plating each of your dishes.
Individuals: $20

Couples: $30

Three or more: $40
Add a ticket below to your cart to sign up. Don't forget to grab any wine you might need!