2018 Ode to Barbara Cuvée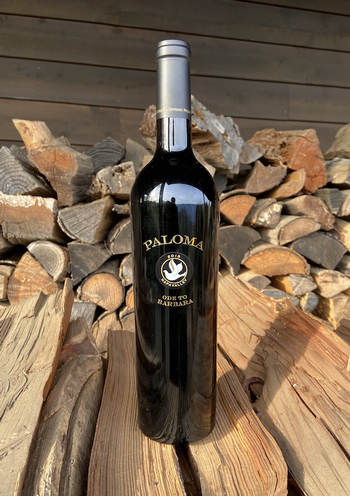 The 2018 Paloma Ode to Barbara is the perfect homage to Barbara Richards. The backbone of 54% Cabernet in the final blend reminds one of Barbara's strength, work ethic, and dedication to the vineyard, while the 44% Merlot reminds us of the soft-spoken woman who politely welcomed visitors into her home to taste wines on the deck with swarms of hummingbirds dancing in the background. The wine opens with an exotic nose of blueberries, anise, ripe plum, and eucalyptus. On the palate, this is a full-bodied offering that entices with flavors of bing cherries, black licorice, black pepper, and a hint of cumin. Very approachable on release and easy to consume, the taster's patience will be rewarded by revisiting the wine multiple times over several hours – engaging in the friendly tug-of-war between the Merlot and Cabernet components. It's only appropriate, as Barbara was never one to back down during a spirited debate. Brava, Barbara Richards.
"This attractive blend is plush and polished, with vibrant black cherry, mocha and toasty spice flavors that sail on a long and lush finish. Merlot, Cabernet Sauvignon and Cabernet Franc." - Tim Fish, WS
Wine Specs
Appellation
Spring Mountain
Product Reviews
Ben Wheeler
(Apr 27, 2022 at 9:46 AM)
Just opened a bottle of Ode to Barbara this weekend and it was stunning! Great nose, wonderful fruit, terrific mouthfeel, and a fine finish.
Sol Stamm
(Jan 17, 2023 at 7:18 AM)
Opened a bottle of Ode to Barbara last weekend. It was absolutely delicious. You all did your mom proud I'm sure she would have loved it as well.